[ad_1]
The Berlin company Dockin is no longer unknown in the world of Bluetooth speakers. With boxes like the D Mate (2nd generation) they have already tried to compete against competitors like JBL or Bose. A top placement in the list of the best has not yet been achieved. With the D Fine 2, the provider is once again sending a wireless loudspeaker into the race. Not only is it bigger, it should also sound better and run longer than its relatives. Can the 150 Euro Dock-in be convincing? The answer in the test.
At first glance, the simple black D Fine 2 looks a little boring. The 11x31x11 centimeter block weighs an impressive 2.3 kilos. Unfortunately, the Dock-in does not have a transport belt like the JBL Xtreme 3 and the box is therefore less suitable for a hiking tour. The housing has protection level IPX5 and is protected against water jets (from any angle). The D Fine 2 doesn't mind rain, but it shouldn't be too close to the pool. Buttons for volume and playback are on the top. They have a comfortable pressure point and are easy to reach. However, it is advisable to take a look at the operating instructions, as not all key commands are labeled and some functions are hidden behind unobvious button combinations.
The D Fine 2 does not only play music via Bluetooth. On the back there is a stereo input (3.5 millimeter jack) which can be used to connect the box to a PC, for example. The speaker also charges tablets and smartphones. The corresponding USB socket is also located on the back of the dockin. The battery life is also good: the Dock-in played a full 21 hours and six minutes at a time. Not even the JBL Xtreme 3 managed that and stopped half an hour earlier.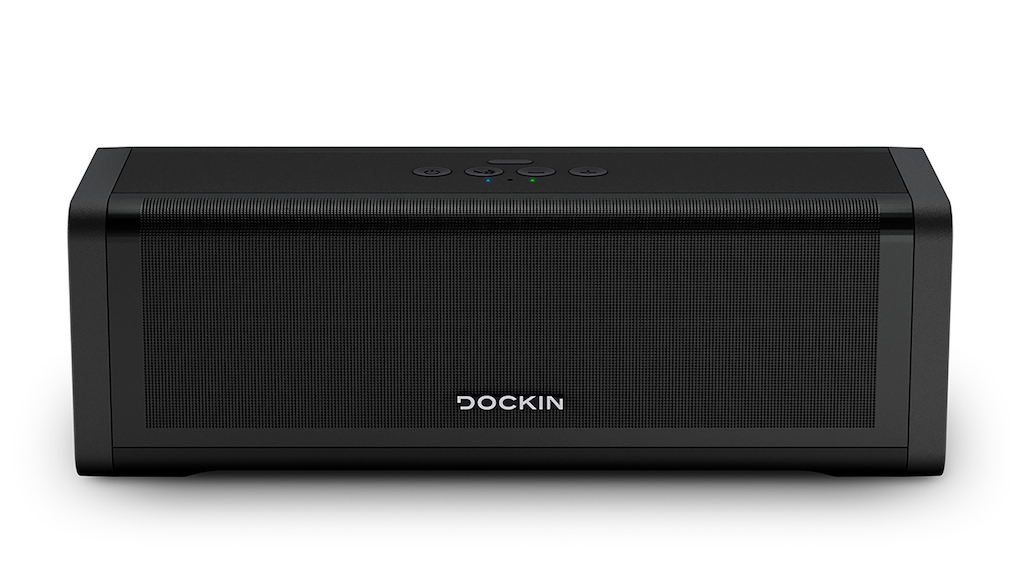 In terms of sound, the D Fine 2 lags behind its sharpest competitor. In the test, however, the Dockin provided a warm and pleasant sound foundation. The bass tends to stay in the background and the highs sound a bit muffled. The D Fine 2 does not sound as detailed and clear as the JBL Xtreme 3. Dockin also loses out in terms of volume. With 85 decibels, the box is difficult to counteract against traffic noise. However, this is sufficient for living room sound. In the front there are two tweeters and two woofers for stereo sound. Two D Fine 2s can also be coupled to form a pair, creating a wider soundscape.
Behind the inconspicuous Dockin D Fine 2 is a good and inexpensive Bluetooth speaker. It pleases with a pleasant but unspectacular sound and a long battery life. The equipment is neat with stereo input and USB charging socket. Unfortunately, the controls seem a bit overloaded with their few buttons and many functions. The somewhat low maximum volume is also a shame. Grade: good, 2.3.
[ad_2]