Why this constituency in Tamil Nadu is the BJP's 'island of hope'

Text Size:


Coimbatore: The BJP's Coimbatore South candidate, Vanathi Srinivasan, is carrying the burden of a big legacy-making moment in these Tamil Nadu elections. 
Over the past 10 years, the BJP has fielded assembly candidates here but has landed a duck. Now, with the AIADMK as its partner and Prime Minister Narendra Modi's popularity, BJP leaders say their tryst with the Manchester of South India has come, more than seven decades after the first RSS shakha in the city. 
To achieve the breakthrough, the BJP has pinned its hopes on the 50-year-old Srinivasan, who is the national head of the party's women's wing and a former member of the Akhil Bharatiya Vidyarthi Parishad (ABVP).
She told ThePrint that apart from promising development and infrastructure, she has been highlighting that the BJP is the only party that "treats all religions alike".
"We have put a narrative to the Tamil Nadu people that only we are treating all religions alike," she said. "Why is the DMK dividing people on communal lines? Why is Mr Stalin giving wishes only for Islamic or Christian festivals and not for Hindu ones and Hindu people?"
Srinivasan's campaign also makes no bones of its BJP antecedents, with darshans at temples, loud drums, saffron flags, Yes We Can Modi T-shirts and the occasional Bharat Mata Ki Jai usual fixtures at her poll runs. 
The 50-year-old, however, is in a three-way fight against Tamil Nadu Congress Committee working president Mayura S. Jayakumar and actor-turned-politician Kamal Haasan who heads the Makkal Needhi Maiam (MNM). 
While Srinivasan has been targeting the DMK-led Democratic Progressive Alliance for excluding Hindus, she has been using Kamal Haasan's star power against him, particularly after the MNM called her a "thukkada (tiny) politician". 
In response, the BJP candidate said Haasan was only capable of doing "lip service", a double entendre referring to the actor's intimate scenes in his movies. 
"I am questioning the actor," she said while campaigning Wednesday. "I want to tell him that all these days he has been doing only lip service. In his case, there are two meanings to lip service. One is doing service to people with words alone and the other is doing service only to his lips. And you call me a thukkada politician?" 
The 50-year-old also makes it a point to highlight that "a vote for the BJP is a vote for the AIADMK", and with good reason. The sitting MLA at Coimbatore South is the AIADMK's Amman K. Arjunan and the party has always held the constituency. But the AIADMK has handed over the seat to the BJP as part of their seat-sharing arrangement.  
Arjunan has been campaigning for Srinivasan. He told ThePrint that he has been telling the public all the work he had done in the past five years. 
---
Also read: Trip to the moon, rolling beedis, washing clothes — TN & Kerala show new ways to woo voters
---
The BJP prospects
The BJP is bullish about its chances in Coimbatore, a city where the RSS set up its first shakha in 1949. Rajamadurai Durai, the RSS' Coimbatore head, told ThePrint that the district now has over 20,000 members and more than 2,500 active members. 
He added that RSS swayamsevaks have been conducting door-to-door campaigning for Srinivasan. "We have been going to each household and telling people to vote for Vanathi. She is one of us after all," Durai said.
"Her husband was in the RSS and she was in the ABVP. Whoever in the RSS shows proficiency in politics, we send them to the BJP. Many people from the Coimbatore RSS have been sent to the BJP." 
Durai said the BJP has a decent chance to open its account in Coimbatore, primarily due to three factors. According to him, 90 per cent of Coimbatore is Hindu while 50 per cent of the population is non-Tamil comprising Malayalam, Telugu and Hindi-speaking people. He also said that since it is a Micro, Small and Medium Enterprises (MSME) hub, people preferred national parties. 
The Coimbatore South constituency, created after the 2008 delimitation, has only seen AIADMK MLAs in the two elections here — in 2011 and 2016.  
The BJP's vote share, however, has been steadily increasing in the constituency. In the 2011 elections, party candidate Nandha Kumar C.R. managed just over 5,000 votes, a little over three per cent of the vote-share. 
But in 2016, Srinivasan finished a close third with 33,113 votes or 21.57 per cent of the vote share. 
It is a similar story in Coimbatore North, where the BJP isn't contesting this time around. The constituency, also created after the 2008 delimitation, has only seen AIADMK MLAs. But the BJP vote-share had increased here too, from nearly 5,000 votes in 2011 to 16,693 votes in 2016. 
The BJP's performance in Coimbatore is in stark contrast to its vote-share in the rest of the state. 
The BJP's best performance in Tamil Nadu came in the 2001 assembly elections, when the party won four seats and garnered 3.19 per cent of the vote-share, its highest ever. This declined to 2.02 per cent in 2006, but rose to 2.22 per cent in 2011 and 2.84 per cent in 2016.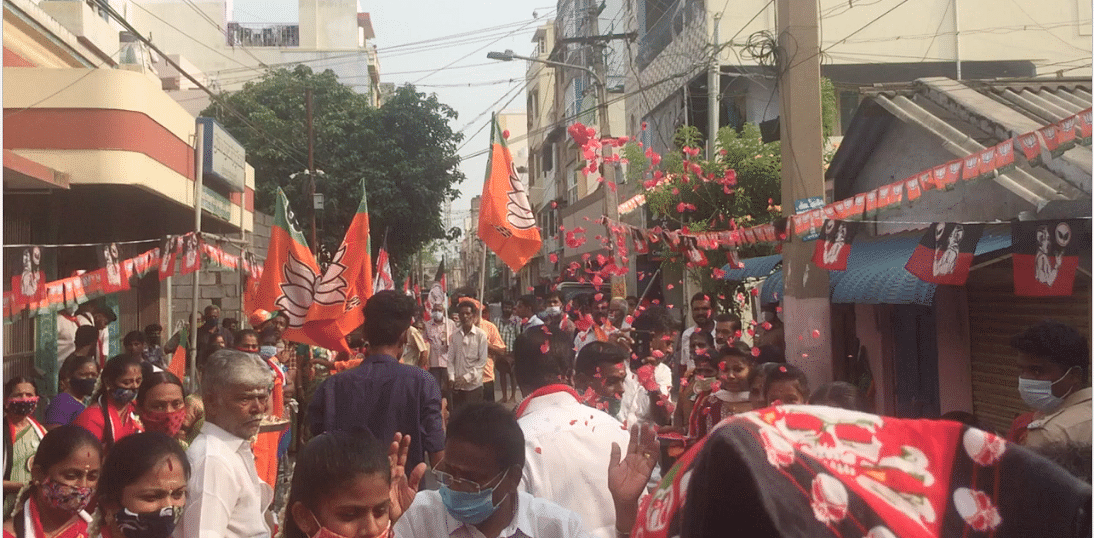 The Srinivasan factor
The BJP is counting on Srinivasan to be among the candidates — along with state unit president L. Murugan, who is contesting at Dharapuram and K. Annamalai, who has been fielded from Aravakurichi — to help it win seats in the state after 20 years. 
"She will definitely win," said Tamil Nadu BJP leader Nambi Narayanan. "Coimbatore has always been BJP's island of hope. Even in 1998 and 1999, we had C.P. Ramachandran as a Member of Parliament from Coimbatore."
Sitting AIADMK MLA Arjunan said that the appeal of Prime Minister Narendra Modi, especially among the Brahmin community in the city, would add to the votes. "We expect to win at least 75 per cent vote share for the alliance," he said.  
There is some support on the ground. Venkatesh, 47, who was present at Srinivsasan's campaign, told ThePrint that he supported the BJP because of Modi. "The BJP is the only party that does not support one religion only. Other parties like the DMK only support Muslims and Christians," he said.
"I like the BJP a lot, they have done a lot of work. I will support them only. Only they take care of us, no one else does," said Mukesh Jha, originally from Jalore in Rajasthan who has been running a mobile accessory store in Coimbatore for the past 15 years.
"Modiji has done so much for the country, even China is scared of us. Modi is the best." 
'Land of Periyar, BJP not popular'
It may not, however, be entirely smooth sailing for the BJP. At places such as Kottaimedu, which has a sizeable Muslim population, residents told ThePrint that the BJP will flounder not just in Coimbatore but across Tamil Nadu. 
"This is Tamil Nadu, the land of Periyar. They are under the wrong illusion if they think they are popular here," said Nizar Ahmed who has been living in Kottaimedu for the past 50 years. 
"When the BJP contested by itself, it did not get any votes. They think they will get votes because of their alliance with the AIADMK, but the fact is that all minority communities have united. Oppressed people will not vote for BJP." 
Shahnavas, 33, another Kottaimedu resident, said Srinivasan only had followers among "Hindi-speaking people and Marwaris". "There is no campaign or video with our people," he said.
Kottaimedu also sees rallies by the Tamil Muslim Munnetra Kazhagam, a social justice organisation campaigning for the Congress' Mayura Jayakumar, who had finished second in the 2016 polls. 
Mujeeb Rahman, the body's district president, explained that their main aim was to beat the BJP. "Due to the legacy of the Dravidian movement, the party would never be strong in the state but they are trying to hide behind the AIADMK," he said. 
His views were echoed by the CPI(M)'s P.R. Natarajan, the sitting Lok Sabha MP from Coimbatore.
"They (BJP) don't speak about the petrol price hike, GST, relief to MSMEs, but only talk about religion," he said. "The RSS' policy of one nation, one culture will never work in Tamil Nadu." 
Rangarajan said that there is an illusion that the BJP is popular here as central ministers have campaigned in Coimbatore South. "They only spoke only in front of Hindi-speaking people," he said. 
The constituency has seen some high-profile BJP campaigners including Uttar Pradesh Chief Minister Yogi Adityanath who was here Wednesday. 
(Edited by Arun Prashanth)
---
Also read: How BJP is banking on Karnataka to lead its poll push in Tamil Nadu, Kerala & Puducherry
---
Subscribe to our channels on YouTube & Telegram
Why news media is in crisis & How you can fix it
India needs free, fair, non-hyphenated and questioning journalism even more as it faces multiple crises.
But the news media is in a crisis of its own. There have been brutal layoffs and pay-cuts. The best of journalism is shrinking, yielding to crude prime-time spectacle.
ThePrint has the finest young reporters, columnists and editors working for it. Sustaining journalism of this quality needs smart and thinking people like you to pay for it. Whether you live in India or overseas, you can do it here.