Lords Mobile Familiars Guide with Tips and Tricks
Lords Mobile is one of the most entertaining games available in the market. What makes it more interesting are its amazing features. If you've completed Skirmish 8, you've surely unlocked the Familiars. Familiars provide you with unique advantages thanks to their abilities. Check each pact in the Spire and press the magnifying glass to see what they do. Above all, once you unlock a Familiar, you can use its passive abilities. Sounds cool, isn't it? For newbies, they have to struggle a lot to understand what Familiar means and how it works. We have summarized everything you need to know about Familiars and are waiting for you to follow along in this Lords Mobile Familiars Guide.
Understanding Familiars in Lords Mobile
In Lords Mobile, familiars provide you with unique benefits from their abilities. Check each pact in the Spire and press the magnifying glass to see what they do. Once you unlock a Familiar, you can use its passive abilities. When you have one that requires it, the button for support skills that need activation will appear underneath the button for activating a shield in your turf. The Familiars have different unique abilities. Some are for administrative purposes, whereas others are for combat. Some must be triggered, whereas others have a long-term effect. To trigger, you need Cores. Skills can be levelled up to a maximum of 10 times. Yup, it is what it is!
How to enhance and manage Familiars?
In the Monsterhold, players can control their familiars. To learn more about a familiar in the Monsterhold, tap on them. The details for that particular familiar can be accessed if the familiar has been unlocked. The Max Strength preview will appear if the familiar is not unlocked. Also, the avatar can be seen on the left side of the familiar profile. The familiar's EXP is shown in the blue bar on the top left, along with the familiar's Name and Familiar Level. Hatchlings, Adults, and Elders are the three stages of familiar growth.
Familiars grow in size and shine in a different colour as they progress through the stages- green for Hatchlings, blue for Adults, and purple for Elders. To progress to the next growth point, a familiar must have the requisite number of Runes and have reached its current maximum Familiar Level, which is listed below. Players may train their familiars in the Gym or use EXP Potions and Elixirs to raise their Familiar Level. It's even possible to use fragments.
Skillstones – Certain abilities require the activation of Skillstones. Each familiar has its own set of skillstones, which can be combined in the Mystic Spire until the familiar reach Elder Stage. Skillstones may need either Ancient or Chaos Cores, depending on the skill's power.
Familiars Skill Types – Permanent effect, Support, and Attack are the three types of skills available to familiars. When a skill is used, it begins a cool-down period and cannot be used again before the cool down period expires.
Monsterhold – Here you can view a list of all your Familiars! Additionally, you can level up and improve your Familiars here.
Gym – Here, players assign heroes to train their Familiars. The number of Heroes allocated to a Familiar has an effect on the amount of EXP earned, while the Grade of the Heroes has an effect on the amount of time required to train the Familiar. When Familiars reach Lv 60, they can develop Skill EXP while practising in the Gym.
Anima – Pacts and Skill stones are combined using Anima. Springs produces Anima, which is also available from a variety of other outlets, including the Cargo Ship, Animares, event prizes, and special packs.
Top Familiars you should max to dominate the arena
The Top 5 Familiars may differ from player to player. We have selected the most loved Familiars globally (from Pact 1-4). Players should note that this list is arranged in the order of powerful to least! Moreover, the choice of familiars will always rely on your playstyle, and you'll almost certainly find a familiar that you can't live without that isn't mentioned here. These, on the other hand, are a great place to start and, in general, have the best buffs.
Hoarder
From the moment you pick it up, this familiar is amazing, and it only gets better with each level. All three skills are extremely useful, and the final one provides you with free jewels, which is an essential part of the game. This is without a doubt the best Familiar in Pact 4! You heard it right here. All three abilities are outstanding! Obviously, it will take some time to reach maximum strength, but even at the lowest setting, this familiar is amazing!
Skills Info
Trove Expansion – When you reach level 10, you'll be able to deposit 10,000 more gems into the Trove. This ability can provide you with an additional 10,000 gems every month.
Skillful Hands – Skillstones merging pace has been increased by 20% with this.
Pay Day – Every three days, 3 random jewels are awarded! This ability will provide you with free jewels!
Gemming Gremlin
This little guy possesses two respectable abilities and one truly remarkable one. His third ability rewards you with an outstanding gem payout every two days, making him impossible to ignore. No doubt, this is the second best Pact 3 Familiar. You've encountered this strange character in the Labyrinth, and he's irritated you beyond belief. Now is his chance to finally assist you (so much gemsssss). Many players believe that its third ability is more fruitful than the other two.
Skill Info
Busy hands – Increases construction by some percentage.
Loded Up – Increase the pace of Gem Gathering by 10%
Stroke of Fortune – Every two days, generates gems around thousand to two thousand sometimes.
Goblin 
This Familiar is a street thug! If you are a skilled player who consumes Gold at the rate of a frat party, you will adore this Familiar. Who isn't a fan of gold? Goblin provides such significant boosts to your gold output and gathering speeds that he is a must-have. The Goblin appears to be a Goblin, and thus poses no problems. The graphics aren't too bad. If you are a fan of Gold, just grab this familiar without wasting much time.
Skill Info
Harvest Frenzy– Speeds up gathering by 25%. Excellent!
Gold Hoarder– Boost Gold Production by 35% Fantastic!
Gold Digger– Generate between 6 and 12 million dollars in gold every 24 hours
Trickstar
Although appearances can be deceiving, Trickstar is extremely useful to have around, particularly if you enjoy wandering around the Labyrinth. Additionally, his analysis pace buff comes in handy. There are some unsettling aspects to the Trickstar. Most of the players found this Familiar to be more than amazing, while others refused to accept this as an incredible Familiar.
Skill Info
Stellar Intellect – Increased research speed by 5% with Stellar Intellect. Good, but not extraordinary
Astral Assistance– ATK range of 10%
Lucky stars – Grants XX random Holy Star items.
Bonehead
This is the man who will practically give you a free ticket to owning the Colosseum (Yes, it's true). His second ability grants you ten additional colosseum entries every 24 hours, making him indispensable to anyone who enjoys PvP. The sword of Bonehead is more effective when held at waist level. In terms of his abilities, Bonehead is surely an incredible hero. It is highly recommended to max out this skullish hero as soon as possible.
Skill Info
Animated– At full strength, Bonehead will have a 20% increase in anima storage. This is extremely beneficial as you unlock larger Familiars!
Ready to Rumble – When levelled to 10, Bonehead will grant you ten additional colosseum entries every 24 hours. The Ready to Rumble ability is simply amazing. Consider this to be the golden ticket to obtaining ownership of the Colosseum.
Hell Drider
The Hell Drider possesses an incredible primary skill. He takes an inordinate amount of time to update. This ruthless familiar will attack the Hero with the highest max HP, then dealing damage to other Heroes near its target too. Moreover, it is also protected by an energy shield, so send your strongest Heroes to dominate him completely.
Skill Info
Hellish Spirit – 10% increase in infantry health.
Prison Break – When your leader is fully charged, he will flee 10% faster.
Convocation – At Level 10, every three days, you'll receive 15,000 T4 troops. Also, this would double the average player's troop practicing.
Saberfang 
The Saberfang Familiar is one of the best beast amongst Familiars. Not only he possesses three exceptional abilities. But also, his Monster Hunting Speed Skill and Loaded Attack are more than just amazing. Saberfang offers a variety of skills and effects to benefit the player, primarily to Monster Hunting.
Skill Info
Swift Predator – At full power, this ability can increase your Monster Hunting Travel Speed by 25%. That is a tremendous boost!
Wild Spirit – Cavalry with a Wild Spirit 10% DEF. At level 10, you will be able to add 15 consecutive hunts once every 15 minutes. This ability is critical for everyone.
Hunting Ground – This is a support skill that adds xx Hunts in a Row once. Also, it must be utilized within 15 minutes and can't exceed the Hunts in a Row limit.
Pyris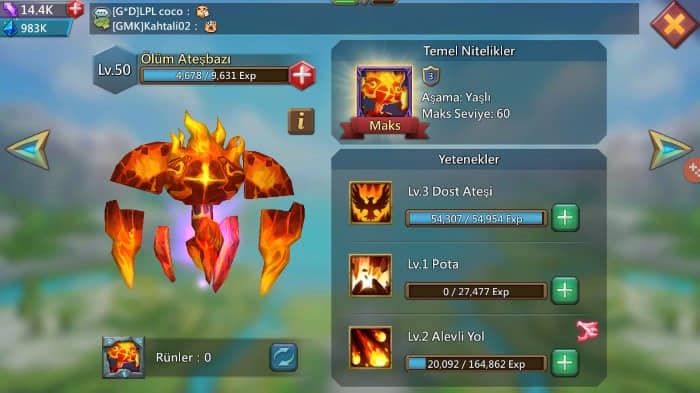 Overall this Familiar is a descent one and has 3 skills. The first 2 aren't anything special, but the 3rd skill is awesome and requires skill stones. The Pyris is a Pact 2B Familiar that increases Extra Supplies, decreases Transmutation Wait Time, and grants an Elder Stage Attack Ability. When awakened, it temporarily increases the DMG of Heroes' Squads deployed in combat. Interesting huh?
Skills Info
Friendly Fires – At Level 10, the Pyris will give a 20% boost of Extra Supplies
Melting Pot – At Level 10, the Pryis will reduce transmutation time by 10%.
Blazing Trail – Executes XX soldiers in an adversary's barracks (will not exceed 5 percent of the total number of troops). Troops in the lower tiers would be attacked first.
Totempest 
The Totempest is a One Hit Monster that spawns during Special Events such as Code 66. Although slaying Totempests does not result in Guild Gifts, they do drop a large amount of Timber when struck. The Totempest is a totem that has been resurrected by a magical enchantment. It spits Timber at anyone who comes near. Additionally, the Totempest can be obtained as a Familiar, providing the player with resource production boosts.
Skills Info
Timber Hoarder – At Level 10, this Familiar will increase Timber Production by some percentage.
Ship Ahoy – This Familiar will enable you to refresh the Cargo Ship every 24-hours.
Tempestite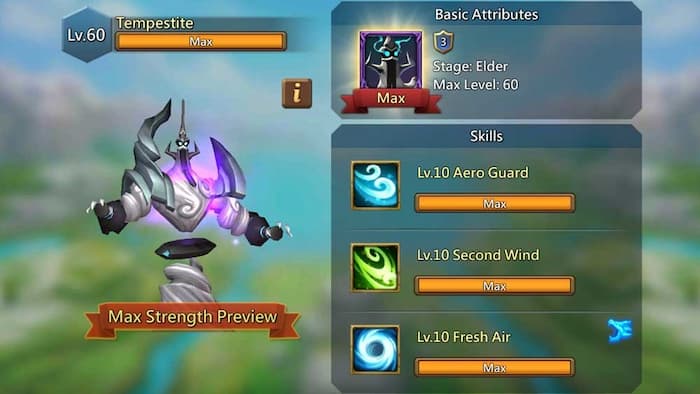 This familiar comes equipped with three abilities, making it the only Pact 2A familiar to do so. Also, the Tempestite has sloppy graphics. His third ability is incredible! You may assemble a formidable army of low-level soldiers. The Tempestite is a Pact 2A Familiar that increases Wall DEF and Energy Recover Speed, as well as providing free Tier 1 Troops at Elder Level. When awakened, it stuns enemies when used in combat.
Skill Info
Aero Guard – At Level 10, you gain a 20% increase in wall DEF. Also, this is a permanent effect.
Second Wind – This is a permanent effect. At Level 10, he has a 10% Energy Regeneration Speed. That is an excellent bonus!
Level 10 Fresh Air – This Familiar can randomly produce 20,000 Tier 1 soldier every three days. Yes, you will get xx random Tier 1 troop.
Final Thoughts
There are numerous familiars in this game, each of which serves a distinct purpose and complements a distinct position or playstyle. The familiars mentioned in our Guide provides truly phenomenal boosts and are an excellent place to start. No doubt, the road to victory is lengthy; why not make the journey more enjoyable by travelling with the right company? However, the ever-popular Lords Mobile has a variety of facets that all work together to ensure that you gain the power required to conquer even the most formidable obstacles. Moreover, if you're stuck somewhere, visit our Lords Mobile Familiars Guide at any time to ensure that you always stand out in the game.
We hope you find our Lords Mobile Familiars Guide useful? Let us know in the comments below.
For more Mobile Gaming news and updates, join our WhatsApp group, Telegram Group, or Discord server. Also, follow us on Google News, Instagram, and Twitter for quick updates.



https://gamingonphone.com/guides/lords-mobile-familiars-guide/