Independence Day 2020 PM Narendra Modi Misses Children at Red Fort – Independence Day 2020: PM Modi remembers children at the ramparts of Red Fort
News Desk, Amar Ujala, New Delhi
Updated Sat, 15 Aug 2020 11:37 AM IST
PM Modi among children (file photo)
– Photo: PTI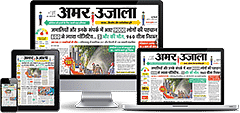 On India's 74th Independence Day, Prime Minister Narendra Modi hoisted the tricolor at 7:30 am on the ramparts of the Red Fort. When PM Modi started addressing the countrymen after the flag hoisting, he first remembered the small children, who used to sit in front of him every year. Please tell that this year due to Corona virus these children have not been able to attend and only limited guests were called in the entire program.
Prime Minister Narendra Modi said in his address, 'Congratulations and best wishes to all the countrymen of this sacred festival of independence. Today, small children are not seen in front of me. Corona has prevented India's bright future. '
Children join in large numbers every year

As soon as the PM started his speech at the Red Fort, he first remembered the children and said – 'Today the children could not come.' It was clear from his words that how much he was missing the children. In fact, every year a large number of children take part in the program at the Red Fort. Children from different schools show the young generation of the country in tricolor apparel. Every year PM also meets these children with special enthusiasm. This year, due to the situation arising from the corona virus, the general public has not participated in the program.
Independence day celebration organized with rules of social distance
The shadow of the Kovid-19 epidemic was clearly visible on the Independence Day celebrations this year, a kit containing masks, sanitizers, a pair of gloves was placed on all the chairs and the chairs were positioned in such a way that the standards of social distance To follow.
The Independence Day celebrations held at the Red Fort were crowded every year and people of different age groups attended the event with great enthusiasm, but this year keeping in mind the safety standards set due to the Kovid-19 epidemic. Its size was reduced.
A limited number of invited guests underwent thermal screening at the ceremony at the main entrance by security personnel wearing personal protective kits (PPE). At the same time, hands free sanitizer was arranged near the security gates.