Free Fire: Upcoming tournaments in August 2021
Free Fire has been bringing tournaments every month for its dedicated servers. Players are always making continued requests to Garena for a dedicated Pakistan tournament, all-star tournaments for every Asian server, etc. In this article, we will be talking about all the upcoming tournaments in Free Fire for August 2021. We'll start with Free Fire Pakistan League Season 2.
Free Fire Pakistan League 2021 Season 2 (PAK Server)
The upcoming Free Fire Pakistan League 2021 will be hosting the second season of the Free Fire Pro League for the PK server. Players interested to participate can easily register via the in-game interactive menu. The first 96 teams will only be registered, once the registrations are between the 21st July to 23rd July 2021. The registered players will then have to compete against each other for online qualification.  The 96 teams can then move forward for the online elimination phase. This phase will consist of 6 rounds of battle royale matches. The registration will take place in the 6 cities of Pakistan which are Karachi, Lahore, Islamabad, Peshawar, Multan and Faisalabad.
After the phase of online elimination, the top 30 teams have to fight against each other for the last time. After the completion of the Play-ins phase, the top 3 teams will be qualified for the Free Fire World Series, which would take place in Mexico. The Mexico World Series will be held on the 10th of October 2021. Eventually, the winner of FFWS will be ranked as Champions.
Free Fire All Stars Asia 2021
Free Fire Asia All Stars 2021 is an invitational tournament for the people who work together with Garena Free Fire over several partner programs/collaborations or involve players of a set of different games. In this tournament, there will be Total Gaming Esports, the winner of Free Fire Pro League (FFPL) Summer 2021, a player who would work for Garena as a caster, moderator, social media handler, etc. There will be other YouTubers who will also be featured. This includes famous characters such as Gaming aura, TSG, TG etc. for increasing their YouTube engagement. The normal players can only cheer for their favourite content creator, caster, etc. The live stream will be on every official YouTube channel of Free Fire Asia. This tournament is for entertainment, reducing the stress of all the tournament players. This makes it easy for them to enjoy themselves alone.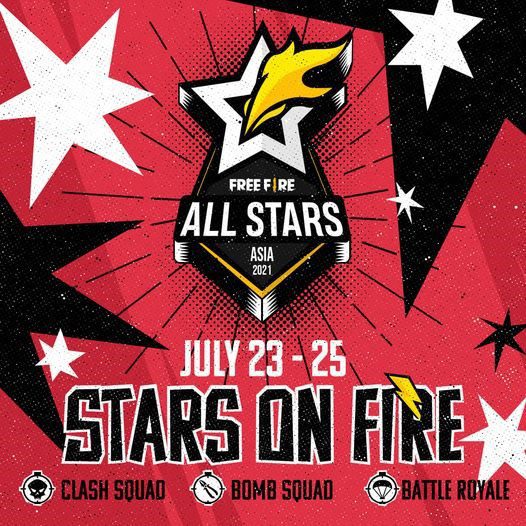 There will be many more tournaments, which will be region-based. Alongside the major and new tournaments that have been listed above, the extra tournament will be Free Fire Pro League, which will be organised for every server one by one, Free Fire World Series. With slots open for everyone, should Free Fire fans try their mettle in tournaments?
Final Thoughts
Tournaments/ Esports is just to earn name, fame and pride in representing one's country. Players who are less interested in the serious genre of gaming or only play games for fun can give it a try if they think they can also make their name and become the champions. On an honest note, every player should give at least one try for the tournament. This is because, in a tournament, players have to play logically, tactically, while also working on the fore power.
What are your thoughts on the upcoming Free Fire tournaments for August 2021? Drop your opinions in the comments!
For more Mobile Gaming news and updates, join our WhatsApp group, Telegram Group, or Discord server. Also, follow us on Google News, Instagram, and Twitter for quick updates.



https://gamingonphone.com/esports/free-fire-upcoming-tournaments-in-august-2021/